My "job description," given to me by my dad, the priest, was to greet people and make them feel welcome. I was very good at what I did. I happen to be quite an attractive dog and I love everyone and everyone loves me...the way it ought to be, don't you think?
So begins the story written by Martin the dog (an Australian Shepherd), who was the official greeter at St. Barnabas in Fredericksburg, Texas, for almost five years. Readers of all ages will enjoy and understand this story of love and redemption.
Twelve-year-old Riley Cohn, whose gift of Autism has given her the ability to see the good and beauty in all, illustrates the book.
ISBN: 9780940672826
40 pages. 9.875 x 8.75"
Full color
Hardcover, $14.95
Publication Date: October 2, 2011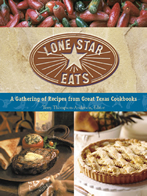 It s no wonder that Texans love to eat: the Lone Star State is not only the nation's second-largest producer of agricultural products but also one of richest in culinary diversity. Texas cuisine is defined by the food cultures of the early Mexican, African American, German, and Deep South settlers, along with those of more recent immigrants from Asia and other parts of the globe.

In compiling Lone Star Eats, Terry Thompson-Anderson has pored over a vast collection of Texas cookbooks and chosen the best examples of the way Texans eat today. More than 500 favorite recipes make up this collection, from down-home comfort foods with rural roots to sophisticated dishes of urban inspiration. Drawing from more than 65 different cookbooks, published by some of the state's leading chefs and by community organizations such as junior leagues and church auxiliaries, Terry has selected traditional favorites as well as new classics to illustrate the mouth-watering array of good eats that characterize Texas cooking.
ISBN: 9780940672765
384 pages. 9.875 x 8.75"
Two-Color
Tradepaper, $21.95
Publication Date: October 2, 2011

Arriving at the farm near San Gimignano as sharecroppers, the Fioroni family later purchased the farm and made Fattoria Poggio Alloro a model organic, self-sustainable farm. We can visit the farm through the hundreds of photographs featured in this book. Sarah Fioroni shares stories of the farm and family, how life changes month-to-month, as well as traditional Tuscan recipes prepared daily in their kitchen.
Descendants of the three Fioroni brothers continue to work together to grow their own olives for their olive oil, their own grapes for their award-winning wines, their own grain to feed the traditional Tuscan Chianina cattle, wheat for their bread and pasta, ancient grains such as faro and spelt, and a bounty of vegetables from their large vegetable gardens.
Featured in numerous publications in Europe, and Organic Gardening magazine in the U.S., the farm is a model farm, visited by government officials from all over the world. The farm is also an agriturismo, enabling visitors to stay overnight, enjoy the farming firsthand, and revel in the tastes of the freshly grown food, as well as the homemade prosciuttos and salamis.
Open the pages of this book and visit Poggio Alloro vicariously, then prepare the recipes and experience the taste of Tuscany in your own home.

A Family Farm in Tuscany: Recipes and Stories from Fattorio Poggio Alloro
By Sarah Fioroni
ISBN 9780940672833
Tradepaper, $24.95
Due April 1, 2012