Texas Regional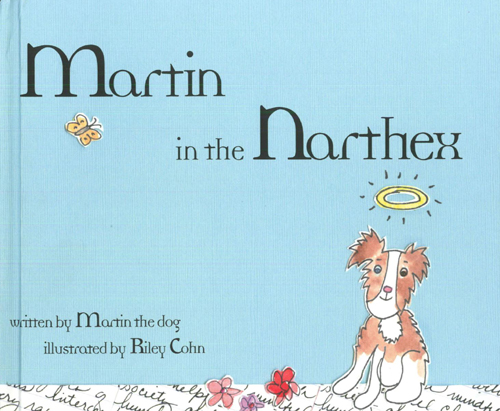 Martin in the Narthex
by Martin the dog
Illustrations by Riley Cohn
My 'job description' given to me by my dad, the priest, was to greet people and make them feel welcome. I was very good at what I did. I happen to be quite an attractive dog and I love everyone and everyone loves me. That's the way it ought to be, don't you think?
So begins Martin in the Narthex, written by Martin the dog, an Australian Shepherd and the official greeter at St. Barnabas in Fredericksburg, Texas, for almost five years. With canine insight, he describes his joyful role in helping to make the church a friendly, caring community. Readers of all ages will enjoy and understand this story of love and redemption.
The book's cheerful, engaging illustrations are the work of twelve-year-old Riley Cohn, who brings Martin's story to life with drawings that reflect her own unique way of viewing the world.
ISBN 9780940672826
40 pages
Full color
Hardcover, $14.95
Publication Date: October 2, 2011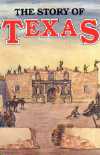 The Story of Texas
Text by John Edward Weems
Illustrations by Tom Jones
Children of all ages will enjoy this colorful, instructive single volume book on Texas history. Told in simple language, the story emphasizes the drama and excitement of the state's history - from prehistoric times , when Texas was largely under water and inhabited by strange creatures, to the modern age of space travel and computers. The text is amply illustrated by lively sketches and paintings that will make reading about history fun.
ISBN 0-940672-35-9
220 pages, 5 3/8 x 8 3/8
Softcover $10.95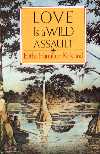 Love Is a Wild Assault
by Elithe Hamilton Kirkland
This brilliant novel tells the story of Harriet Potter--the dark-eyed pioneer woman who became a legend during the struggle for Texas independence and who played a dramatic role in the unfolding saga of the new republic. Widely praised for its historical accuracy in depicting early northeast Texas, this account is based on Harriet Potter's long-forgotten autobiography as well as journals, court records, and other documents of the period.
ISBN 0-940672-58-8
504 pages, 6 x 9
Softcover, $17.95

Fredericksburg Texas
Living with the Past
text by Don and Lynn Watt
photography by Michael Mehl
This delightful journey around the nineteenth century community of Fredericksburg captures the essence of the Texas Hill Country's German legacy. The color photographs document not only the distinctive architecture of the period, from the earliest fachwerk cabins to the later limestone houses and barns, but also the carefully restored and maintained interiors, with their attractive antiques and collectibles from pioneer times.
ISBN 0-940672-42-1
64 pages, 7 1/4 x 7 1/4
100 color photographs
Hardcover $9.95

This Favored Place
by Elroy Bode
with photographs by Frederick C. Baldwin and Wendy Watress
In his sensitively and incisive manner Bode captures the Hill Country in this book. The sounds, the sites, the smells of the Texas Hill Country may assault or they may soothe the senses, but there is testimony aplenty that its cedar-dotted hills and cypress-edged rivers are unique and unforgettable.
ISBN 0-9402672-09-x
136 pages
Hardcover, $13.95

Clem Maverick
The Life and Death of a Country Music Singer
by R.G. Vliet
woodcuts by Barbara Whitehead
This poem sequence chronicles the short sad life of a country boy turned country and western star, caught in the trappings of success: sequins and spangles, whisky and women, and the good times that kill as surely as a knife. This handsome volume is one to be treasured by aficionados of both literary excellence and fine book design. R.G.Vliet was honored three times by the prestigious Texas Institute of Letters before is death in 1984.
ISBN 0-940672-13-8
48 pages, 9x8
6 woodcut illustrations
Hardcover $15.00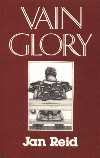 Vain Glory
by Jan Reid
Jan Reid admits to a longstanding ambivalence toward football. Like any self-respecting boy at Wichita falls High in 1960, he wanted to make the A team but, instead languished perennially on the B team. In his witty and intelligent prose style, Reid sifts through the myths of this violent spectacle and pokes at the vanities of those who have been drawn into the sport of Texas football.
ISBN 0-940672-37-5
352 pages, 6x9
Hardcover $15.95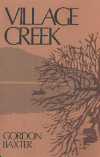 Village Creek
by Gordon Baxter
Village Creek is funny, moving and filled with feeling without being sentimental. Here is the memoir of a man who, in midlife, grew into a new self-made mold and left behind a "good ole boy." Baxter writes with deep affection of his past - his neighbors, country life, his kids - and with passion about his present - his wife Diane, their baby Jenny and their anything but quiet life on Village Creek. Paul Crume said in the Dallas Morning News, "Sometimes a feeling comes up from Baxter prose that is like the bluest smoke from a rich pipe of tobacco. At times he is the best writer in Texas."
ISBN 0-940672-03-0
318 pages
Paperbound, $7.95

Shearer Publishing 406 Post Oak Road Fredericksburg Texas 78624
Call Us Toll Free 1-800-458-3808
E-mail shearer@shearerpub.com
Copyright © 2011 Shearer Publishing. All rights reserved.
Page Design by Home Page Express