Winner of 2011 Silver Benjamin Franklin Award
and
Bronze Medal Winner of Independent Publisher Book Awards 2011
Don Strange of Texas: His Life and Recipes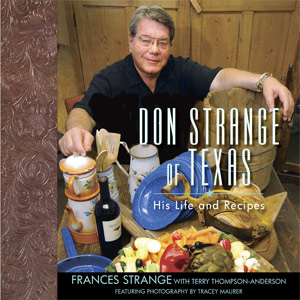 San Antonio catering company Don Strange of Texas, known across the state as "the king of caterers," has earned a reputation for serving delicious, freshly prepared food with imaginative flair, even at events attended by thousands of people. From its humble beginnings more than fifty years ago as a small grocery store and meat market on the edge of town, the business has evolved into an empire of catering venues with a diverse client list that includes entertainment celebrities, corporate moguls, and organizers of charity galas.
This remarkable story is told by Frances Strange, whose husband was the driving force behind the company's success—Don Strange himself. Through engaging personal anecdotes spanning the caterer's entire career, she reveals Don's innovative genius for finding new ways to cook and serve party foods as well as his dogged persistence in meeting the logistical challenges of feeding huge crowds under adverse conditions. What emerges is a portrait of a down-to-earth family man who built a first-class catering operation through sheer hard work and relentless perfectionism, an unerring eye for detail, a steadfast dedication to customer satisfaction, and a showman's sense of fun and surprise.
The author has included more than one hundred of the caterer's most popular recipes, adapted for the home kitchen by noted chef Terry Thompson-Anderson. In addition, cooks and party hosts will find tips on ingredients and techniques used in preparing some of the dishes along with sample menus from events catered by Don Strange of Texas. Full-color photographs illustrate selected dishes as well as the caterer's signature serving style.
ISBN# 9780940672819
256 pages, 10 × 10
Over 300 color photographs
Hardcover, $34.95
Publication Date: November 17, 2010
Recipe Correction: Page 118, Don's Chile Con Queso, the cheese should be processed pepper-jack cheese (sold next to Velveeta cheese).
Book Signing Schedule for Frances Strange